Contact Us
Valley Family Practice, LLC
3524 Heathrow Way
Medford, Oregon 97504
Phone: (541) 646-3505
Fax: (541) 646-3553
Directions:
Our clinic is located in the Navigators Landing Business Park. The entrance to the Park is directly across from the new Medford International Airport entrance.
View Google Map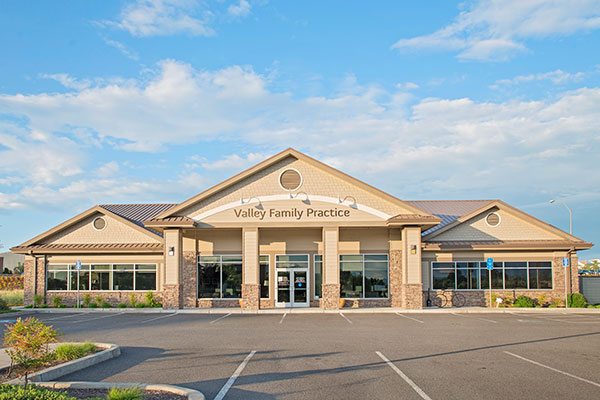 ---
Clinic Hours
Monday through Friday, 8 a.m. to 5 p.m.,
Saturdays, 8:30 a.m. to noon
Laboratory Hours
Monday through Friday, 8 a.m. to 5 p.m.
 Saturdays, 8:30 a.m. to 11 a.m.
X-ray services are available Monday – Thursday from 9 a.m. to 5 p.m.
For our patients' convenience, our laboratory draw station is available during all VFP operating hours. Please call our office to schedule an appointment.
For additional lab draw locations please visit the Rogue Valley Physicians Laboratory and Imaging Center web page.
---
Cancellations
If you are unable to keep your appointment please notify us 24 hours before your scheduled time. This allows us time to accommodate other patients.
---
Phone Calls
Phones are answered in-office during normal business hours.  Calls that are non-emergencies should be made during these hours. Due to the high volume of telephone traffic, we ask for your patience and understanding.
If calling regarding workers comp/disability forms, insurance coverage or billing questions please have your paperwork available.
For after hour needs please call (541) 646-3505. You will be directed to our after hours service who will assist you with your call and transfer you to a nurse or physician as needed. For life-threatening emergencies (severe difficulty breathing, chest pain, unconsciousness, seizures, or severe head injury) call 911 immediately.
Please visit our Frequently Asked Questions  (FAQs) web page for more helpful information.